WE ARE OPEN !
​
In response to COVID-19
​
UPDATES (Last updated 02/27/2021 at 1:25pm)​​
To allow for safe distancing, Max. Capacity will be kept at 40 Members (staff excluded).

Locker rooms and showers will re-open on 02/22/2021

Massages and Personal Training Sessions by appt. only

CLASSES : see below for Schedule week of March 1st. ​(max. occupancy 10 people including instructor or 12 people for Yoga & Pilates) members' temperature will be checked at entrance. This is a first come first serve basis at this time.​​​​

Zumba Classes available Monday and Friday: 10:45am to 11:45am

Yoga Classes available Monday, Wednesday & Friday: 9:30am to 10:30am

Zumba Class available Tuesday: 11:30am to 12:30pm

Cardio Sculpt available Tuesday and Thursday: 8:30am to 9:30am

NEW CLASS : Silver Sneakers available Wednesday: 11:45 to 12:30pm

Fit For Life class available Wednesday: 10:45am to 11:45am

Pilates Sculpt Class Saturday: 9:00am to 10:00am

Check back for updates (weekly)
​
​
Check the site daily as we will continue to provide timely updates regarding classes and current business hours.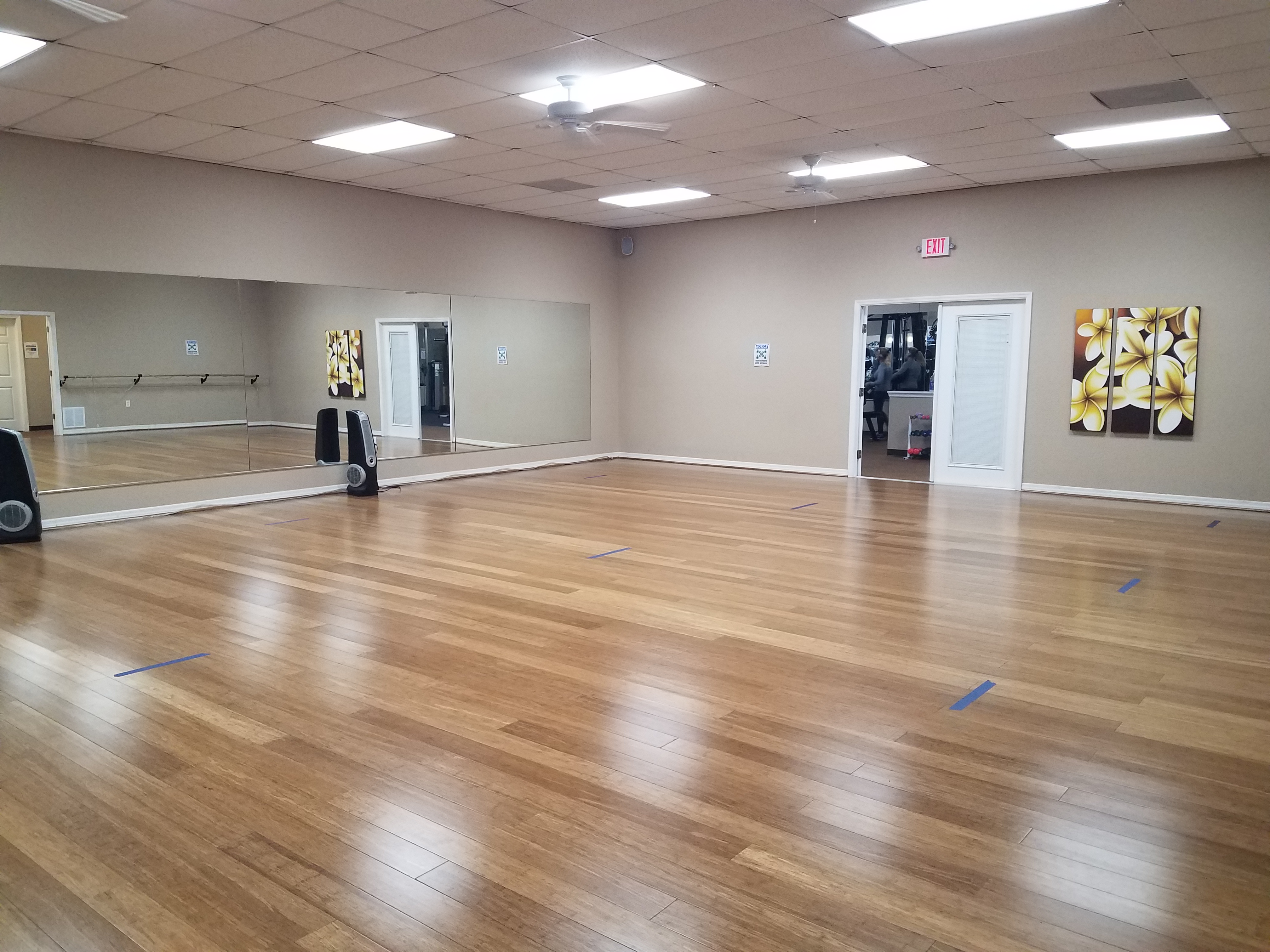 Studio
Front Desk
Cardio- Treadmills
Cardio- Ellipticals
Free weight area
Free weight area
Free weight area
Nautilus equipment
Cardio- Recumbent Bikes
TRX machine
Studio
Nautilus Equipment
Nautilus Equipment
Massage Room
Massage Room
For information on COVID-19 vaccinations in Volusia County – including dates, times, locations and how to register
– please visit
​
Covid-19 Updates and Safety Measures Used By Nautilus By The Sea Fitness Center Inc.
Click here for MORE...
---
Nautilus By The Sea is taking additional precautionary measures to ensure the health and safety of all our members, and staff – This is our highest priority. ​ In Regards to the ever evolving Coronavirus (COVID-19) public health crisis, we are following the advice provided by the CDC, the mandates from our local government as well as taking extra precautions based on the demographics of our customers. ​ Reopening: ​ At Nautilus, our club is required to follow the recommendations and mandates of our local government in order to protect the health and wellness of members and staff. Nautilus will reopen Tuesday 26th of May at regular business hours. Massages and Personal Training sessions will be available by appointment only. Classes are available with limitations (max. number set to 12 and 10 depending on classes) Along with following CDC and local government cleaning and distancing protocols, Nautilus has developed safety requirements and recommendations to provide the safest and healthiest environment possible for our members and guests. ​ Club Protocol and Procedures: ​ As we enter the final phase (phase 3) of reopening in Florida, we are recommending the following, in-line with or above and beyond local government regulations. These safety guidelines will also be posted throughout the gym to keep members informed. ​ Hours + Staffing Nautilus will resume normal business hours on Tuesday May 26th 2020. Staff will be trained on all CDC recommendations for cleanliness and distancing prior to reopening. Staff temperature will be taken before each shift. All staff will be provided with facial masks. Cleanliness + Disinfecting Enhance sanitation and cleaning protocols to comply with the CDC/health authority recommendations. The club has been deep cleaned and fog sanitized prior to reopening. Carpets have been cleaned prior to reopening. Hand sanitizer and disinfectant wipes available throughout the club. Each customer will be required to have their temperature taken upon entering the gym (touchless forehead thermometer will be used) Each member will receive an individual disinfectant bottle and towel to use before and after use of equipment. Bottles will be returned to staff and re-sanitized. Water fountains will only be used for refilling water bottles or (provided disposable) cups. Distancing Recommended 6ft social distancing will be monitored throughout the gym. Locker rooms and showers will re-open on 02/22/2021 We will limit and monitor the number of people in the club (Max. Occupancy limited to 40 excluding staff and classes) Group classes are not to exceed size/distancing limitations. Addtional classes will be added based on current protocols so check our website weekly for any updates on times and schedules. Thank you all for your understanding and support towards our facility.​
---
---
​
Live Stronger, Live Longer
Be fit for life!
At

Nautilus by the Sea

you will discover a special place where
your fitness goals can be obtained at your own pace.
Nautilus by the Sea FITNESS CENTER
At Nautilus by the Sea there is a bounce in our step, a youthful vigor, and a positive attitude that is almost contagious!
Experience shows that time-consuming, confusing exercise regimens can quickly discourage even the most health conscious person. At Nautilus by the Sea you will discover a special health club where your fitness goals can be attained at your own pace in just 30 minutes a day, 3 times a week.
We have moved to the Ocean Village Shopping Center. This location has doubled the space of our gym floor and the number of machines it includes. We have a Cardio Theater, a Free Weight area, and a beautiful Yoga Studio with state of the art flooring that is also used by Dancing with the Stars!
Come in to see the Nautilus by the Sea Difference.
Nautilus by the Sea uses highly qualified Personal Trainers and Fitness Class Instructors to help you safely reach your health and fitness goals. Our Personal Trainers use scientifically proven medical exercise protocols and add specific movements to target your areas of emphasis to help make your goals a reality. If you are looking to improve your golf game, 5K time, lose weight, or increase your balance/agility/strength/endurance, come visit Nautilus by the Sea for a health screening and fitness assessment and let us help you take the steps to reach your destination!
We are located in the Ocean Village Shopping Center at
4176 S. Atlantic Ave
New Smyrna Beach, Florida 32169
​
We are under new ownership! Exciting things happening!
Send us a message!
​
We would be happy to answer your questions

or consider your suggestions.
JOIN OUR MAILING LIST
AND NEVER MISS AN UPDATE